Yeah, you heard us: GLOW IN THE DARK.
2nd place in Derby #147: Double-Take Derby Nine, with 618 votes!
Okay, maybe you didn't until just then. But NOW you heard read us. We're printing this bad boy with Glow in the Dark ink. We know: that's some CIA-type stuff. We keep it in a big industrial vat behind the warehouse, and we only dip into it in between horrible, super-mutant-spawning accidents.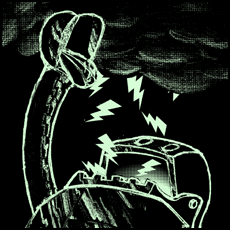 Now before you get all indignant with your "Hey, no special requests in Derby submissions!" or "Why can't I get glow in the dark ink!" or "YOU LOWBROW HACKS ARE CONTRIBUTING TO THE DEATH OF ARTISTIC VISION BECAUSE IF I DON'T LIKE A SHIRT THEN NO ONE IS ALLOWED TO LIKE IT OR ELSE THEY'RE STUPID!!1!1!eleventy!" just know that we reserve the right to do something impulsive like this whenever the urge strikes.
So enjoy! Based on the last batch of super villains to crawl out of our vat out back, it might be awhile before we do this sort of thing again.
Wear this shirt: In the dark! Come on! It's GLOW IN THE DARK.
Don't wear this shirt: In thunderstorms. You're tempting fate.
This shirt tells the world: "Hey, you attractive member of the opposite sex. Step into my darkened bedroom and look at my shirt."
We call this color: Robotic Royal Blue
Design Placement: Centered
Design Size:
3X – S: 13.51" x 19"
WXL - K4: 9" x 12.65"
Pantone Color(s): – 296C – 3935C – 5487C – 557C – Glow In The Dark
Please check our sizing chart before you order. The Woot Tee follows a classic closer-fitting style. If you prefer a baggier look, order a larger size. If there is not a larger size, consider starting a belly-hanging-out trend.