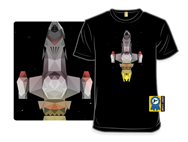 3rd place in Derby #615: Low-fi Polygons
THREE FABULOUS IDEAS FOR A FIREFLY REBOOT:
1) "Firefly High" a teen comedy featuring the next generation of the Serenity crew. Mel will be there to teach important moral lessons about life and friendship, while the teens get into light-hearted scrapes with the law.
2) "Serenity and the City" an HBO series about Kaylee, Inara, Zoe, and River traveling the galaxy looking for fun, fabulous shoes, and forever love.
3) "Serenity World" it's like "Westworld" but in space. And everyone was a robot the whole time.